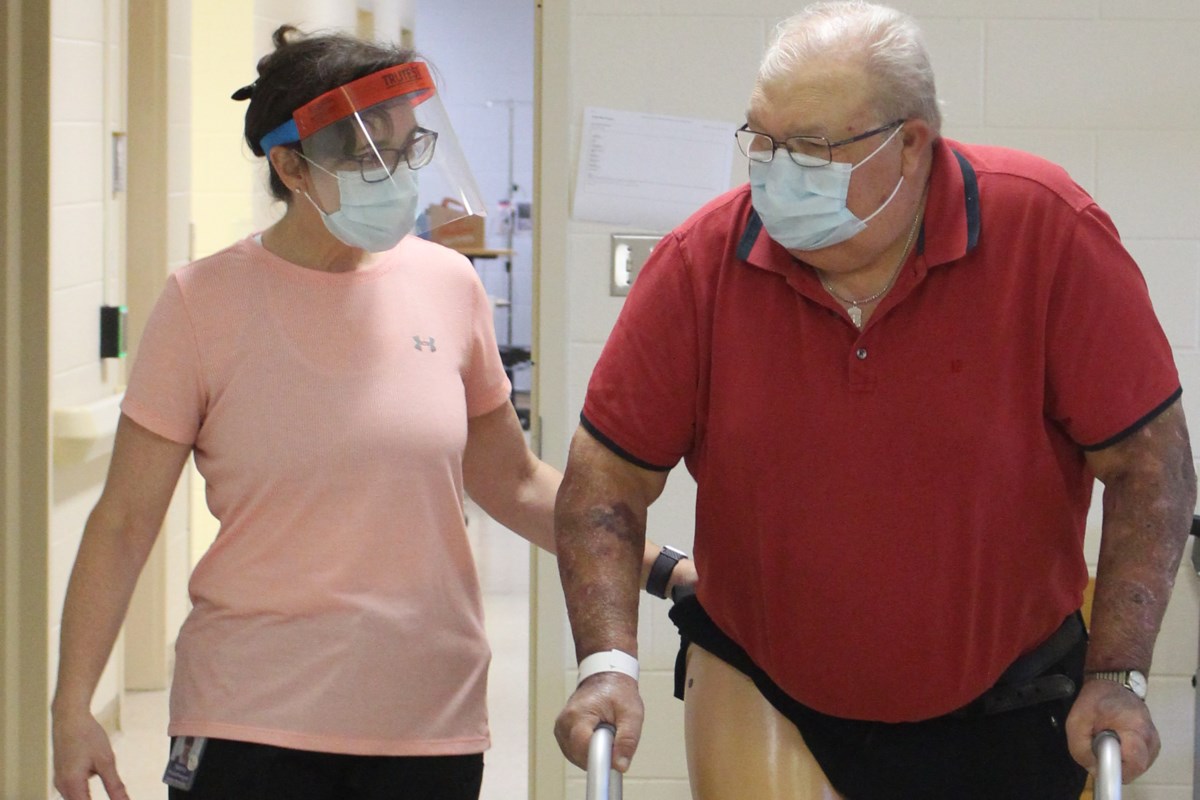 "Whether hiking, running or even mountain biking on the trails, it is important that seniors stay active," says the organizer of the Fit to Live event on September 16
Ann Budge is living proof that you must be fit to live a long and healthy life. Because of this, she's constantly encouraging local seniors to stay active and is the driving force behind a new event called Fit to Live.
The 84-year-old started the event as a fundraiser for Rehab Day Hospital at Orillia Soldiers' Memorial Hospital (OSMH) to help more patients regain their lives after life-changing injuries and surgeries.
Budge suffered a life-changing injury in 2015 at the age of 78. When she was cycling along the 15/16 Sideroad in Oro-Medonte Township, Budge was hit by a school bus.
"I was taken to the hospital where my shattered femur was operated on. Now I have a 12-inch plate with lots of screws and my calf was cut open to the bone from the front of the bus, "recalls Budge.
"After six weeks in OSMH, I was sent to Georgian Bay General Hospital for more tests, physical therapy, and therapy, and then they said I could go home and that was because of who I was before my accident."
Budge began cycling at the age of 50 and subsequently won provincial, Canadian and world titles. Budge remained very active as a senior, and doctors declared that she had the body of a 61-year-old when she was actually 78, she said with pride.
"If I hadn't been fit and strong, I would have been in care and not have been able to run," she explained.
After Budge realized the importance of physical activity for seniors after their injury, she decided to raise awareness and raise funds for OSMH.
"It's important for people to realize that as they get older, they have to keep going. Whether it's hiking, running or even mountain biking on the trails, it's important for seniors to stay active, "she said.
"I remember when I was 45 I thought I was too old to run the trails, but if I hadn't maintained a strong and fit lifestyle, I wouldn't be running now."
The Fit to Live event features guest speakers including certified forest therapy guide Kristie Virgoe and retired family doctor Carol Strickland. After the guest speakers, there will be a 300 meter walk down to Church Woods, owned by the Couchiching Conservancy.
The outdoor event will be held at St. Thomas Hall in Shanty Bay on Thursday, September 16, from 1:30 p.m. to 5:00 p.m. and admission is $ 20. To buy tickets or for more information about the event and its speakers, click here.