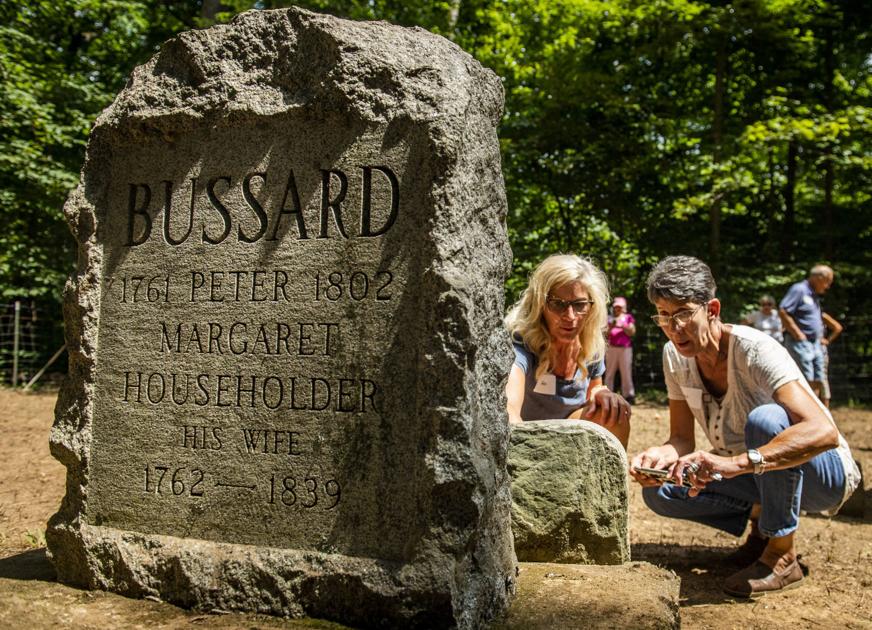 Sunspots appeared on dozens of people gathered in a cemetery on Catoctin Mountain on Sunday – accessible only to those with a four-wheeler, golf cart, or the will to climb a rocky quarter-mile trail through the forest.
Since Tim Bussard can remember, he has been going on an annual hike here, to the historic homestead of his ancestors. Every October he and a handful of relatives cleaned up the family cemetery, a small piece of earth surrounded by towering pine trees and mostly populated with aging, unmarked stones.
But on Sunday there were almost 100 buzzards next to him.
It was the family's 100th annual reunion. Depending on who you asked, it could have been 101st. Regardless of the number, Tim said he was glad to be there.
"It's really cool to continue that tradition," he said. "I hope it lasts 100 years."
For 99 years, dozens of people had gathered in Middletown for the Buzzard family reunion on the second Sunday of August. As the 100th approached, those responsible for the annual event were excited: They wanted to "give everything," said Tim, in order to celebrate the occasion in a special way.
Then a global pandemic hit. The buzzards opted for a series of small gatherings among the immediate families, and they shared photos with each other rather than hugs and plates of food.
Despite a 12-month delay, Sunday was very special for Bussard and his clan. Instead of a park in Middletown, the family gathered at Stoney Lick Farm in Thurmont, where the first American buzzards settled in the 1760s.
Standing in the shadow of a centuries-old hut, Tim Bussard told his family story with ease. He told of Sophia and Daniel, who fled the French region of Alsace-Lorraine on the same boat as children and who later fell in love. He told of their son Peter, who died in 1802 when he was kicked in the head by a mule.
"We know Daniel is buried up there," said Tim, pointing up the mountain. So is Peter. "There are probably about 20 more stones in the cemetery, but we don't know who they are."
The buzzards' pride in the traditions surrounding their family gathering is evident. There is a president – that's Tim – as well as a vice president, secretary and treasurer for the event. The officers are elected each year at a family meeting.
They organize raffles and auction family heirlooms, photos, books and baskets of homemade goodies to raise money for next year's get-together.
About 40 years ago, Clara Szczechura said, someone knitted a baby blanket for auction – three simple stripes in black, blue and yellow. The next year someone brought the blanket back and auctioned it again. And again.
Eventually the buzzards took over the blanket as their family flag. It stood in a triangular display case on Sunday and was ready to be sold again. The highest bidder can display it in his house until the reunification next year.
The flag is the most sought-after auction item every year, said Tim Bussard. His colors were painted on banners and hung over the property, which sat beneath nieces, nephews, uncles, cousins, and more.
Szczechura has been the reunification secretary since 2014, she said. She clutched binders and clipboards as she ate dessert, diligently preparing to record the minutes of the upcoming family reunion. A few meters further on, at the check-in table provided, visitors leafed through old newspaper clippings with stories about their relatives and noted on a board which of Peter's seven sons they were descended from.
With August rolling around every year, Szczechura looks forward to seeing more family members she might not otherwise keep up with.
While Szczechura organized their notes, children spread out around the property, played in a moon bouncy castle that the buzzards had rented, or ran circles around the nearby pond.
Dreary Bussard, 18, and her cousin Alyson – just a year under her – stayed side by side all afternoon. They made fun of their fathers, played with Alyson's new pup, and laughed as they climbed the steep path to the cemetery and told stories of four-wheeler rides up and down the mountain.
They had carved their names on a tree in front of his gate.
"I hope we can get the younger generation to continue this," said Szczechura.