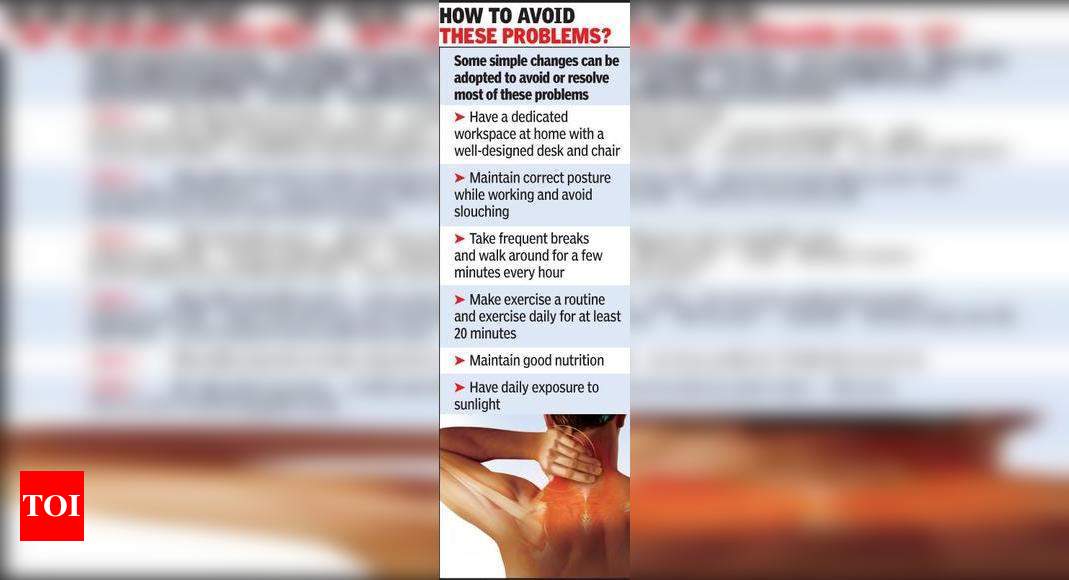 Hyderabad: Incorrect postures, long working hours, little exercise and lack of sunlight while working from home have led to what doctors now call the "epidemic within the pandemic" of increasing bone problems. Complaints of pain in the neck, spine, lower back, hip joints, knees, ankles, and wrist are common, according to doctors.
"Many people have failed to realize the effects of changing their daily lifestyle as a result of the pandemic on their health. Many work for hours on the bed or on the floor. We see at least 5 cases of severe back and neck pain due to incorrect posture, and in some cases structural changes are also observed, "said Dr. BVS Raju, Consultative Neurosurgeon and Spine Surgeon at Aster Prime Hospital.
The cases in the city's IT belt appear to have increased many times over. "Compared to 4-5 patients in a week, we now see about four cases every day. Research would usually reveal a lack of vitamin D3 and calcium, but it wouldn't cover all ailments just yet. The number of cases has increased over the past six months, "said Dr. Sai Laxman Anne, Head of the Orthopedic Surgery Department at KIMS Kondapur. She also pointed out that the lack of ergonomic seating at home combined with the fact that people ignore proper sitting in contrast to an office environment compound the problem.
Dr. RA Purnachandra Tejaswi, Consultative Orthopedic Surgeon, Yashoda Hospitals, added, "Staying at home and not having to drive to work has also resulted in many people gaining weight, leading to knee and hip problems. The prolonged use of keyboards has resulted in many professionals showing up with wrist pain and carpal tunnel syndrome. "While most complaints are from people in the 30 to 50 year olds category, older people with bone problems also occur, as many have been inactive and Develop osteoporosis, doctors said.