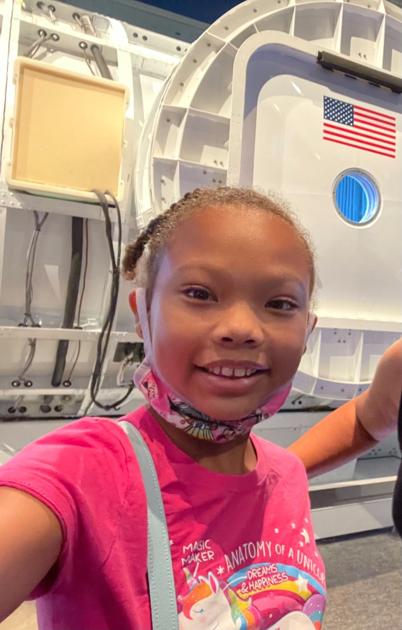 On the night of July 17th, I attended an African American art exhibition at the Juneteenth Legacy Project headquarters in downtown Galveston. My grandma and I went to see a lot of art about African American history.
A man named Sam Collins III spoke to me about how I need to be with people who are smarter than me, so that I can get smarter – and then I can do great things and make a difference. He wants me to read and learn. He gave me two books. He also gave my grandma $ 50 to keep for me until I wrote a one-page report on what I had learned that evening.
That night, too, I spoke to a man named "Mr. Artist "and he's an artist. I think that's pretty cool. He showed us his painting about Ruby Bridges and what happened when she was 6 years old when she was a little kid. There were schools for white children and schools for black children. White people did not treat schools for black children as well as schools for white children. One day Ruby Bridges started attending school for white children. The whites didn't want her to go to the white children's school. They didn't like the idea of ​​a black girl attending a school for white children. For security reasons, she had to be taken to school by the police.
Mr. Artist said the painting is also about "the problem we still have". I think that means people treated black people terribly when Ruby Bridges was 6. They treat black people a little better now, but it's still a little unfair for black people. There is "a lot" of black history that white people do not write in our history books. We need to put in more work to get more black history into our history books.
In summary, I felt special because I was able to talk to artists and learn about African American history. I really enjoyed being attentive and connecting with everyone as well as connecting with the story. I like to go to the art gallery and talk about history to everyone there and see their paintings depicting history.
It was very kind of Sam Collins III to give me a $ 50 scholarship to write a one-page paper on what I learned that evening. He was also nice to give me two books on African American history. Collins is a nice man who wants young children like me to learn about our history early on. Then we can do great things at any age. Even if we feel like we have to stand up for ourselves and do something great, we will be able to do it.
Soleil Chennault is 9 years old and lives in Burbank, California.