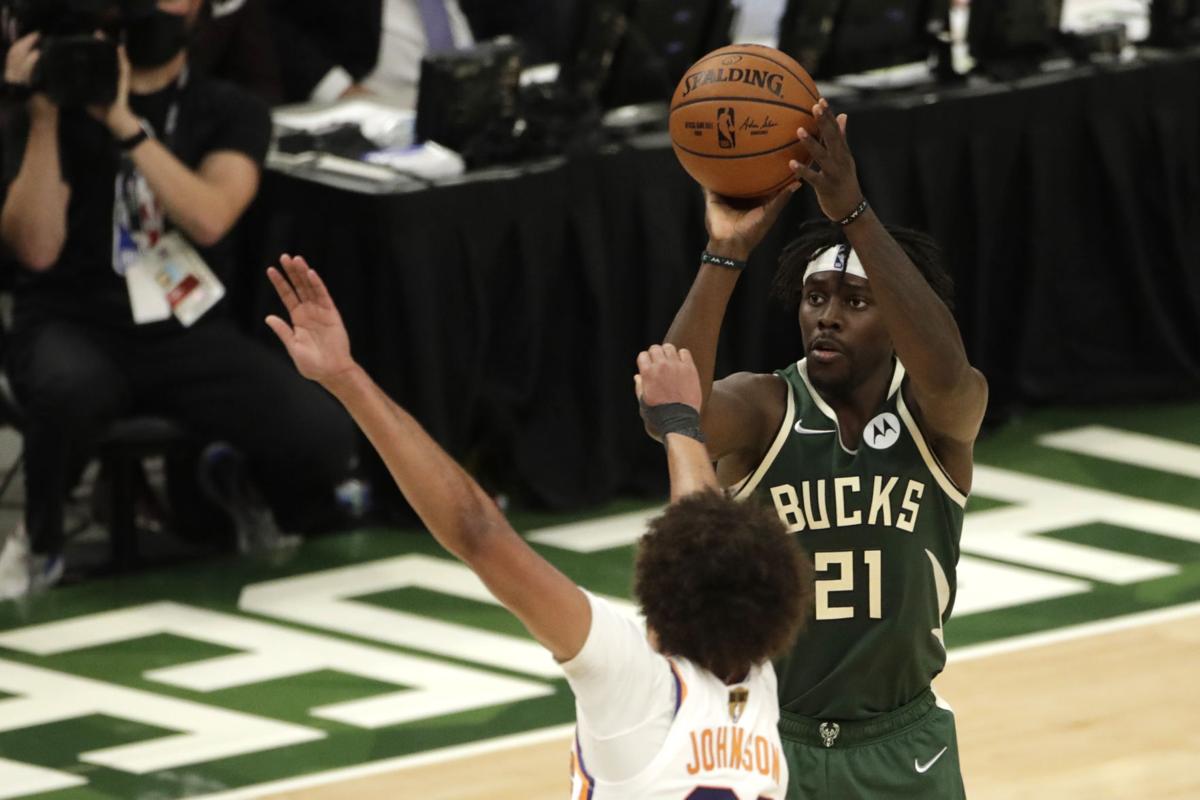 Giannis Antetokounmpo of Bucks dunks during the first half of Sunday in Milwaukee. He scored 41 points.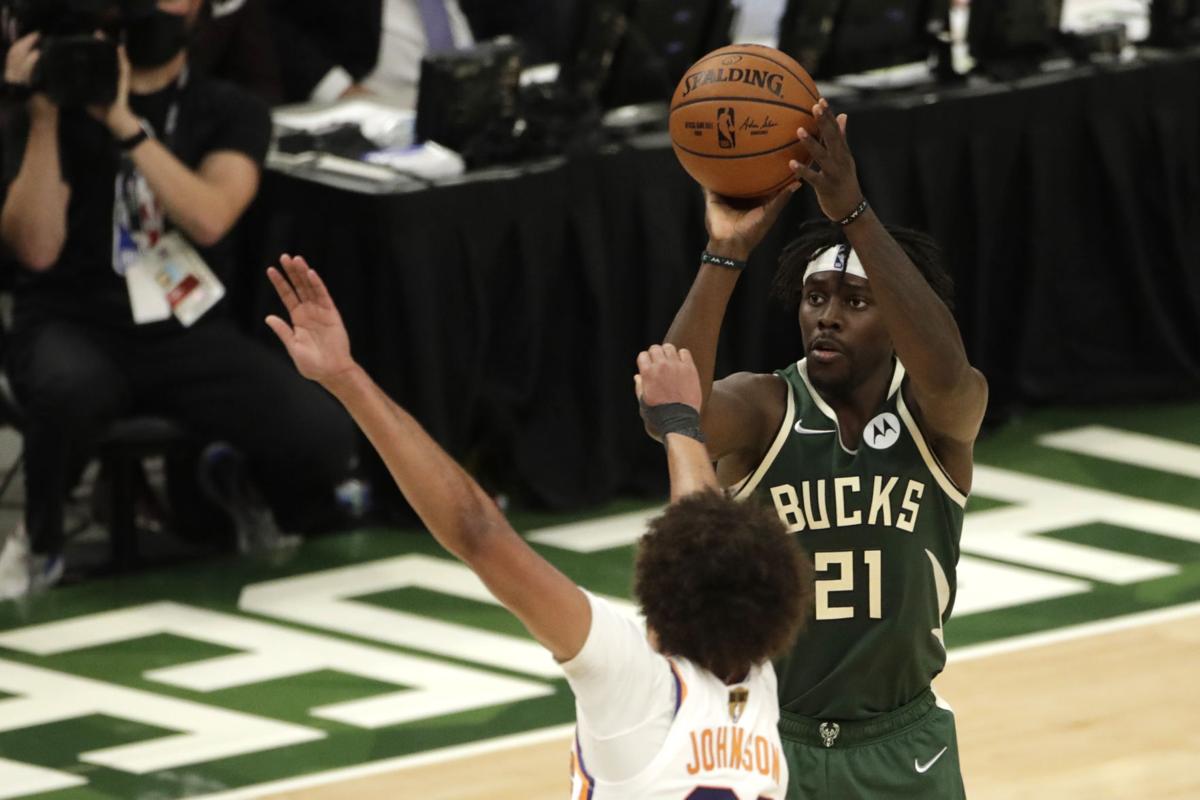 Bucks 'Jrue Holiday shoots Suns' Cameron Johnson in the second half. Holiday ended with 21 points and nine assists.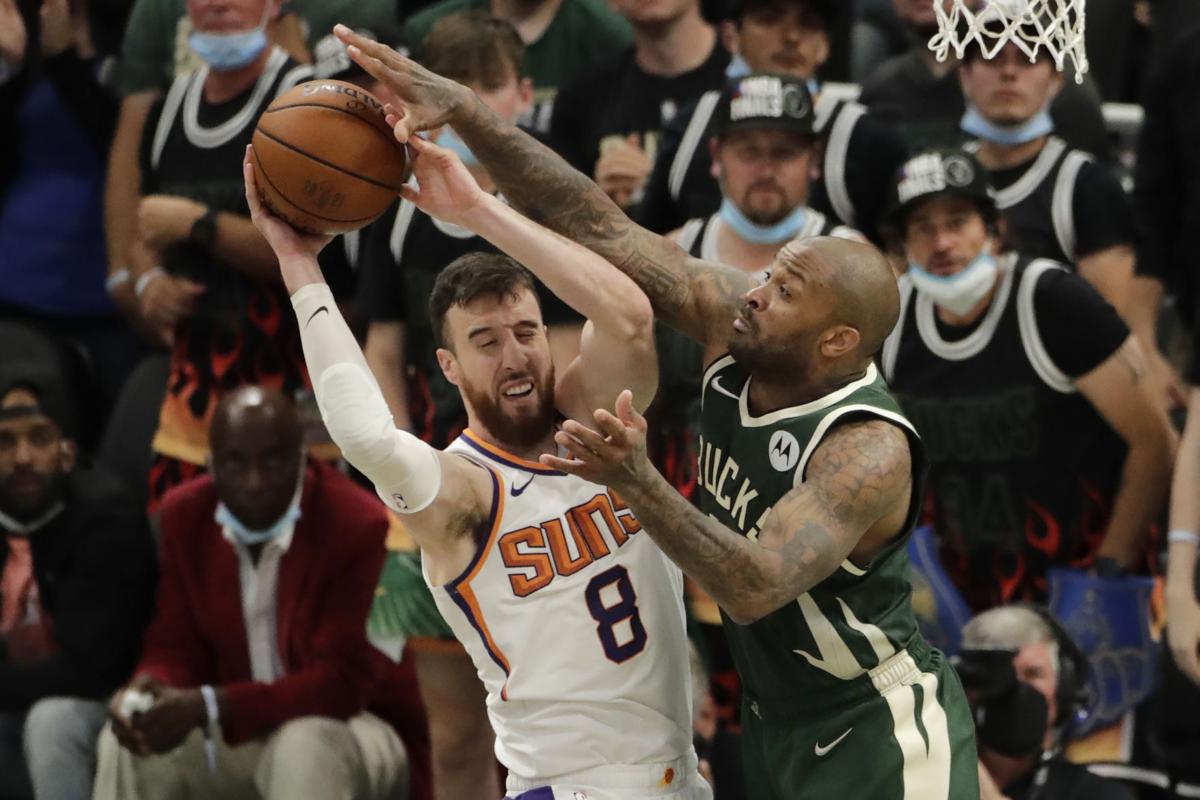 Sun's striker and former UW athlete Frank Kaminsky had six points, four rebounds and two assists in 14 minutes.
BRIAN MAHONEY Associated Press

MILWAUKEE – When Giannis Antetokounmpo crashed onto the pitch just two weeks ago with what appeared to be a serious knee injury, there was no guarantee he would be back this season.
Perhaps, he feared, he might even miss a year.
Antetokounmpo refused to stay downstairs.
Neither will these Milwaukee Bucks.
Antetokounmpo had 41 points, 13 rebounds and six assists on the return of the NBA Finals to Milwaukee, and the Bucks beat Phoenix 120-100 on Sunday night, reducing the Suns lead to 2-1.
"We knew what kind of game it was going to be," said Antetokounmpo. "We knew you would be in the hole if we lost the game."
Instead, the Bucks started climbing out of one.
The first NBA final game in Milwaukee since 1974 went exuberantly to the home team, with Antetokounmpo and the bigger Bucks overwhelming the little Suns by a 20-2 lead on second chance points.
Game 4 is Wednesday night and the series is guaranteed to return to Phoenix after that.
"I said it after the last game. This team won't give in. They'll play through to the end, "said Suns star Devin Booker. "So we have to put in the same effort that we had in the first two games and I think we will be in good shape."