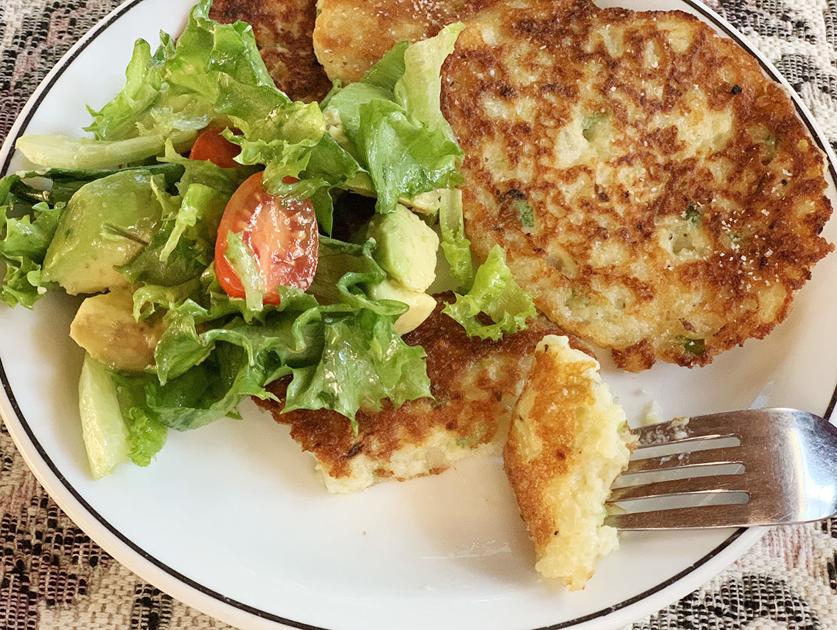 It has been said that April is the cruelest month and that April is the friendliest month. Make your choice. Right now I think many of us are willing to vote on the friendliness side. Sunshine, spring flowers, Passover, Easter – after waiting over a year for a pandemic, they all seem to be ready to make us smile. Whether your favorite snack is salted toffee matzoh or macaroons, peeps or gummy bears, it may finally be time to reflect on happy thoughts.
Cooking at this time of year can be delightful. It's all about light dishes, light salads, breakfast for dinner or maybe just a small brunch with family and friends. Large gatherings, other than outside, are still in our future, but let's think about celebrating spring today.
One of the most fun dishes is a puffed pancake, also known as a Dutch baby, and for those of us who cooked 50 years ago, David Eyres pancake. It's one of those magical recipes indeed, one that I particularly enjoy making with children. The end product is much bigger than the sum of its parts: it's an inconspicuous combination of flour, milk and eggs mixed with a hint of vanilla and sugar (sweet) or a pinch of fresh chives and some grated cheese (for savory ones).
It definitely has a wow factor, and if your stove has a window, you can put a couple of kids (or incredulous adults) in front of the stove to watch it go up. Yes, it falls when it cools, but those glorious oven-fresh heights are well worth the effort. It's partly pancake, partly crepe and partly popover. It combines the best of all three and is absolutely delicious.
King Arthur Baking has a recipe for a lemon puff pancake that can be served with fresh berries or with a blueberry sauce if the berries on the market aren't what you're looking for. You give them "one last anointing" with a little lemon juice and a pinch of sugar. If you want, you can gild the lily with wonderful fresh raspberries. Serve immediately after taking them out of the oven. Here are two ways to do it: the first is baked in a round pan or pan, the second in a 9 by 13 inch baking pan.
Lemon puff pastry pancakes with fresh berries
(adapted from the King Arthur Baking Company)
1 tbsp freshly squeezed lemon juice
Preheat the oven to 425 ° F with a 9-inch cast iron pan (or 8-inch baking pan). Whisk the flour, salt and sugar together; Whisk the milk, vanilla and eggs in a measuring cup. Pour the liquid ingredients into the dry and mix until fairly smooth; Take the pan out of the oven and put the butter in it. Put it back in the oven to melt, remove the pan and pour half of the butter into the batter. Stir to combine and pour the batter into the hot pan. Bake the pancake for 15 to 20 minutes, or until puffed and golden, with deeper brown spots. Take it out of the oven and sprinkle it with the lemon juice and then with the sugar. Serve immediately, garnished with fresh berries.
German pancake
Combine milk, flour, eggs, vanilla, and salt in a blender or food processor and blend on low speed until smooth (you can also hand whisk them together until mostly smooth. Some small lumps can left over, but that's fine). Spray a 13 by 9 inch baking pan with cooking spray. Place the oven rack in the lower third of the oven and preheat it to 450 ° F. When the oven is almost preheated, place the butter in the prepared baking pan and place it in the oven until the butter is hot and sizzling. Carefully pour the batter into the hot pan. Bake for 25 minutes or until golden brown and fluffy. Cut into wedges and serve hot with maple syrup and powdered sugar. Note: If you want to make a pumpkin spice pancake that is simply delicious served with crispy bacon or hot sausages, just add the following to the batter: 1⁄3 cup pumpkin puree, 1⁄2 teaspoon cinnamon, and 1⁄8 teaspoon ginger.
I hesitate to call this next recipe by its broader name (which is crack – supposedly because it's so addicting); hence I'm going to give it the simple title of a Salted Toffee Matzoh. There are many versions of this, as it has been around for a while, but that doesn't make it any less wonderful. It's topped really nicely with flaky sea salt, but you can also add a handful of sprinkles to the chocolate – think of holiday colors! – before it melts. You can also sprinkle toasted flaked almonds or chopped macadamia nuts on top, but my preference is the simplest: Maldon sea salt.
Salted toffee matzoh
Preheat the oven to 250 ° F and line a baking sheet with foil; Arrange as much matzoh as will fit on the sheet (about 4, break off another piece if desired). Melt the butter in a medium saucepan over medium heat; After melting, add brown sugar and stir. Cook until the butter bubbled and the sugar melted; Take the pan off the heat and carefully stir in the vanilla extract. Pour this toffee mixture over the matzoh and spread it until the matzoh is completely covered. Bake the toffee-coated matzoh for 25 to 30 minutes until it is bubbly. Take the baking sheet out of the oven and cover the matzoh with chocolate chips. Put the baking sheet back in the oven and bake for about 3-4 minutes until the chocolate starts to melt. Remove the sheet and use a spatula to spread the melted chocolate over the matzoh. Sprinkle a generous amount of sea salt flakes over the chocolate and place the baking sheet in the refrigerator for 2 hours or until the chocolate and toffee are set. Take the baking sheet out of the refrigerator and break the matzoh into pieces before serving.
The following is a fun dish for a light dinner or even lunch – it's Jacques Pepin's recipe for criques, a French potato pancake. They aren't latkes – but they definitely taste like them! They have delicious crispy edges and a soft, melting interior. Served with a simple salad, these are a great way to use up any leftover potatoes and green onions that may be languishing in the vegetable container.
Bays
(adapted from Jacques Pepin
2 cups of peeled and diced Russet potatoes
Half a white or yellow onion, peeled and diced
2 tbsp potato starch or AP flour
1/2 teaspoon each: baking powder, salt and pepper
2 spring onions, cut and chopped
Peanut or rapeseed oil for frying the pancakes
4 cups of lettuce, such as arugula or a mixture
1 tbsp each: extra virgin olive oil and lemon juice
Half an avocado, peeled and diced
4 to 5 cherry tomatoes, halved
Place the potatoes, onions, garlic, eggs, potato starch, baking soda, salt, and pepper in a food processor and pulse for about 30 seconds to combine the ingredients well. (The texture becomes grainy.) Stir or pulse the spring onions. Heat about 3 tablespoons of oil in a large non-stick frying pan over high heat. When it's hot, add about a quarter cup of batter and spread it around to form a pancake about 4 inches in diameter. Repeat this process to cook 4 pancakes side by side in the pan. (If you're using a smaller pan, make multiple batches.) Cook the pancakes over medium-high heat for about 3 minutes on each side, adjusting the heat as needed to make sure they don't burn before they cook through . They should be well browned and not mushy in the middle – you want to be sure that the onions in the batter have a chance to cook through and lose their raw taste. Transfer the pancakes to a wire rack so they don't get mushy on the bottom. Keep making pancakes until all of the batter is gone, adding more oil to the pan as needed. Serve. (Criques are best fresh off the pan, but can be made 1 to 2 hours in advance and heated on a baking sheet in a 425 ° F oven for about 5 minutes before serving.)
To make the salad, toss the vegetables in a bowl with olive oil, lemon juice, and salt and pepper to taste. Top with avocado and tomatoes and toss again. Divide between four plates and arrange the criques on top.