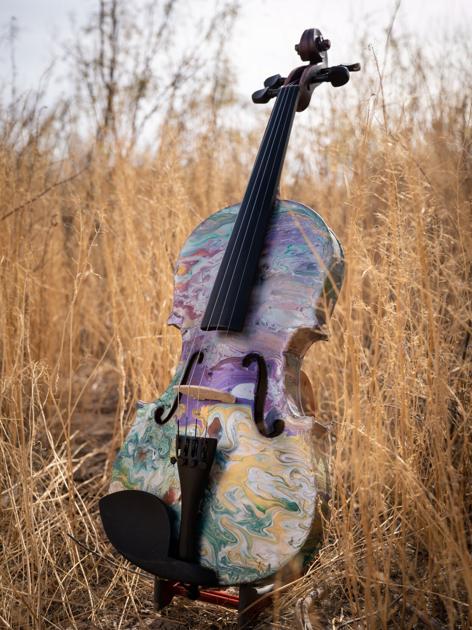 The El Paso Symphony Orchestra is celebrating its 90th anniversary season with a series of events, starting with a reception in July, to honor the artists who participated in a fundraiser for painted violins.
An Emerald Affair gala will be held in Grace Gardens on Friday 10 September, where more than 30 intricately painted violins by El Paso and local artists, including EPSO Music Director Bohuslav Rattay, will be auctioned. The evening traces the 90-year history of EPSO and includes dinner and entertainment.
The violins will debut at a reception in honor of the artists on Thursday July 1st at the International Museum of Art, 1211 Montana, where the violin exhibition will run through July 4th.
The 2021-2022 season will feature music by famous composers performed by Rattay alongside other recognized musicians in the area. In addition, various collaborations with the El Paso Opera, El Paso Pro-Musica and the University of Texas at El Paso Music Department and Choral Union will take place in the 90th anniversary season.
The season includes:
24.-25. September: Masterpieces by Gershwin and Ravel by Kevin Cole on the piano
22.-23. October: World premiere of a 23-minute cantata by Jorge Martin, which pays tribute to the victims and survivors of the attack on August 3, 2019 in El Paso.
3rd-4th Dec .: Home for the holidays
21.-22. January: New Year's concert with El Paso Pro-Musica with cellist Zuill Bailey and violinist Chee-Yun Kim.
18.-19. February: In collaboration with the UTEP Choral Union, Beethoven's Symphony No. 9 presents "Ode to Joy".
22.-23. April: Rachmaninov's Concerto for Piano No. 3 by the pianist Natasha Paremski and Respighi's Pines of Rome, which highlight the orchestra.
Information: epso.org; 915-532-3376.