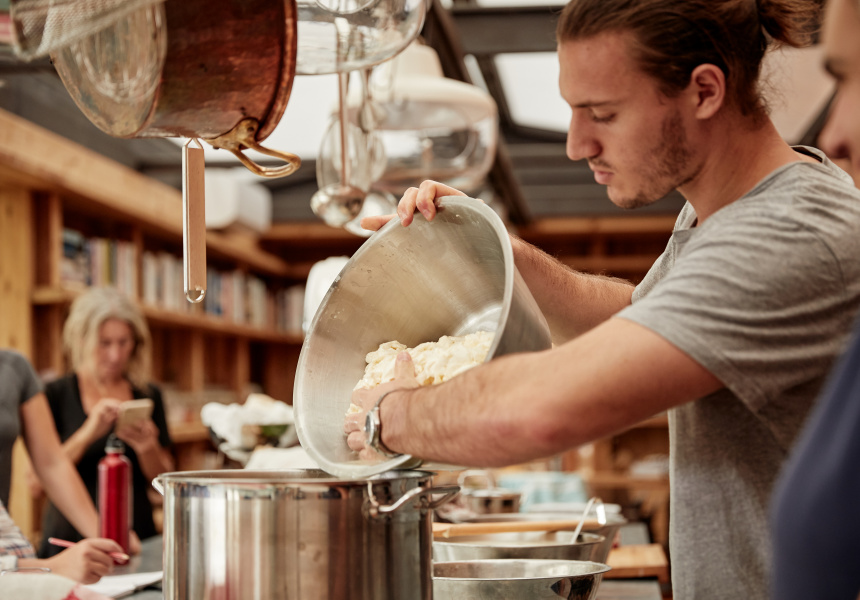 In a self-sufficient, 110-meter-long greenhouse on a windy hillside farm, you will learn how to improvise pasta, cook flaky roti with aromatic curry, take care of sourdough starters and much more.
Perched on a windy block of hills is the Daylesford Longhouse, a tangle of interior gardens, private rooms, and common areas that fit together like a puzzle to create a cohesive space.
Cooking classes are sometimes held in the workshop, and there are four low-capacity sessions in the first block for 2021.
On February 14th, chef and author Rosa Mitchell from Rosas Kantine shares tips for cooking Italian cuisine, with an emphasis on pasta and spontaneous cooking (throw those strict recipes out the window).
On April 4th, the whole food chef, Holly Davis, is packing sourdough for Easter. Participants learn how to care for a sourdough starter and use it for various classic baked goods.
And on April 18th, Pamelia Chia from the online platform Singapore Noodles will teach the art of flaky roti, paired with aromatic chicken curry and side dishes for a family-style feast.
Each class only has eight to 10 students, which allows for a more hands-on and interactive experience with teachers.
Cheese making with Kristen Allan is sold out.
More information here.