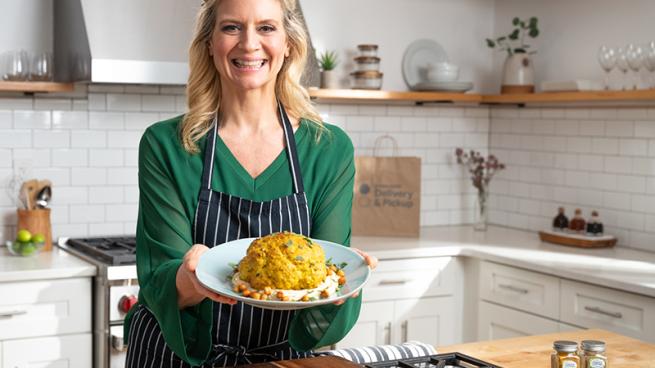 Stop & Shop is launching its second season of "At the Table", a recipe video series that highlights Nature's Promise's own brands in recipes.
The cooking show will be moderated by TV food personality and cook Amanda Freitag, who appeared on The Food Network as a juror for "Chopped". The Stop & Shop shows run on the retailer's Facebook and Instagram channels at 1 p.m., east, Mondays and Wednesdays in July.
The first episode highlights a baked feta noodle recipe and others will highlight seasonal dishes. The Stop & Shop website lists episodes for purchase along with the recipe and a purchase list of ingredients, and often includes the retailer's trademark Nature's Promise as a recommendation.
Stop & Shop is a banner by Ahold Delhaize USA promoting the Ahold private label, which was developed with its retail services branch.
"We are excited to start the second season of our 'At the Table' series, offering our customers simple and unique recipes that they can prepare from the comfort of their own home," said Stop & Shop Social Media Manager Essence Souffrant. "We hope our customers enjoy working with Chef Amanda to create the recipes that satisfy every moment, desire and opportunity for their families."
Friday shares exclusive recipes with step-by-step instructions on how to prepare the meal. She will also bring her signature culinary skills and experience from cooking competitions such as Chopped and Iron Chef while curating meals on the following themes: plant-based, low-carb, summer seafood lunches, date nights and Instapot recipes.
"I'm very excited to be working with Stop & Shop and sharing some of my favorite recipes through the At the Table series," Friday said. "My goal is to show people how accessible cooking can be and to be more comfortable and have more fun in the kitchen. With 'At the Table' I can help more people do just that. I'm really excited when my Stop & Shop grocery delivery comes to my door – they always have everything I need and I can't wait to start cooking and eating. I wish the Stop & Shop customers a lot of fun shopping and cooking with me. "
On the first season of At the Table, Chef Robert Irvine invited viewers to his kitchen to prepare simple and fun family meals.
Both seasons of the "At the table" season are available on the Stop & Shop website.