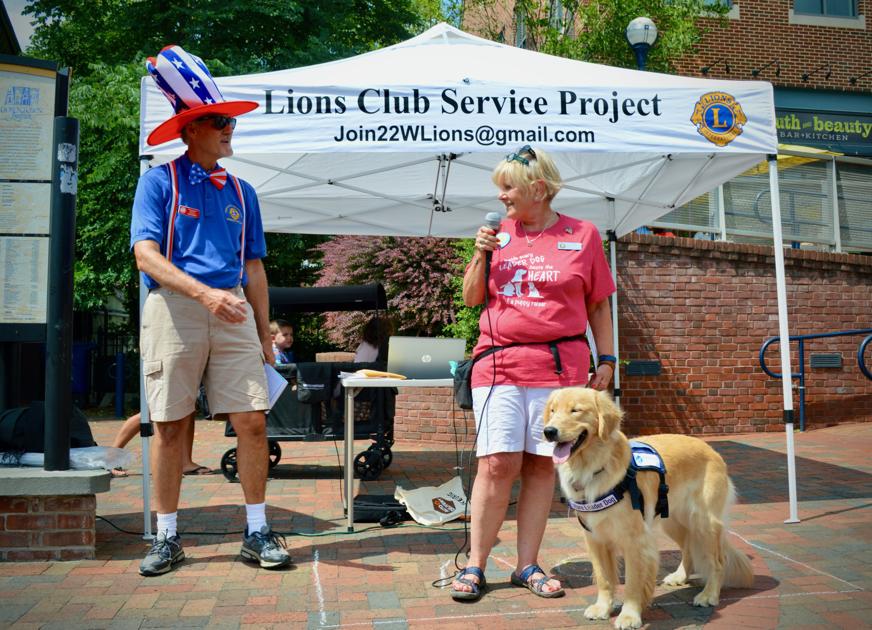 Mira Nair and her dog Nutmeg marched down Carroll Creek in Frederick on Saturday, decked out in matching red, white and blue tutus and hair bows.
"A lot of people think she's still a puppy even though she's nine years old," said Nair, smiling down at Nutmeg. "She has so much energy."
The couple were one of a dozen exhibitors in Saturday's Canines on the Creek parade and costume competition hosted by the Francis Scott Key Lions Club. Proceeds from donations and entrance fees – approximately $ 600 total – went to Leader Dogs for the Blind, based in Michigan.
With stars and stripes on dog-sized hats, boots and vests, the dogs circled Carroll Creek, greeted by a crowd of enthusiastic pedestrians. Dog training and advocacy groups had set up stands along the route.
Gary Bennett, Lions club member and event organizer, said Saturday is the second iteration of what the group hopes to become an annual tradition. Just before the coronavirus pandemic broke out in 2020, he said they held a St. Patrick's Day dog ​​parade and hope to have a Halloween theme next year.
Although Bennett said his wife was the biggest dog lover in the family, he was inspired to organize the event after hearing about the Lions club's work with Leader Dogs for the Blind. Lois Barb, a puppy schooler with the group, reached out to the crowd before the parade began.
At Barb's side was one year old Harper, a golden retriever who is currently undergoing the intensive training required to become a guide dog for a blind or partially sighted person. Not an easy task: only a small fraction of the puppies pass the final exam.
Harper is Barb's tenth puppy. She keeps them until they are around 12 to 15 months old, she says, and then they travel to an institution to finish their education. Three of their 10 dogs ended up as service animals – one is now in Spain, one in Mexico, and one in Ohio.
Guide dog organizations like Leader Dogs rely heavily on groups like the Lions Club for funding, Barb said.
A parade on Saturday was Olivia Deboer, who brought her four-month-old Australian Cattle Dog, Husky and Terrier mix Starla. Olivia tries to teach Starla to read, she said, using a laser pointer and large drawings of each letter. Her father laughed as she described the process.
"Pretty soon the dog will be bigger than them," he said.
As the parade ended, Bennett said – wearing a huge Uncle Sam hat and matching bow tie – that downtown was a perfect location for his club's events.
"Frederick is such a dog-friendly, dog-loving community," he said. "It just seemed like child's play to me."