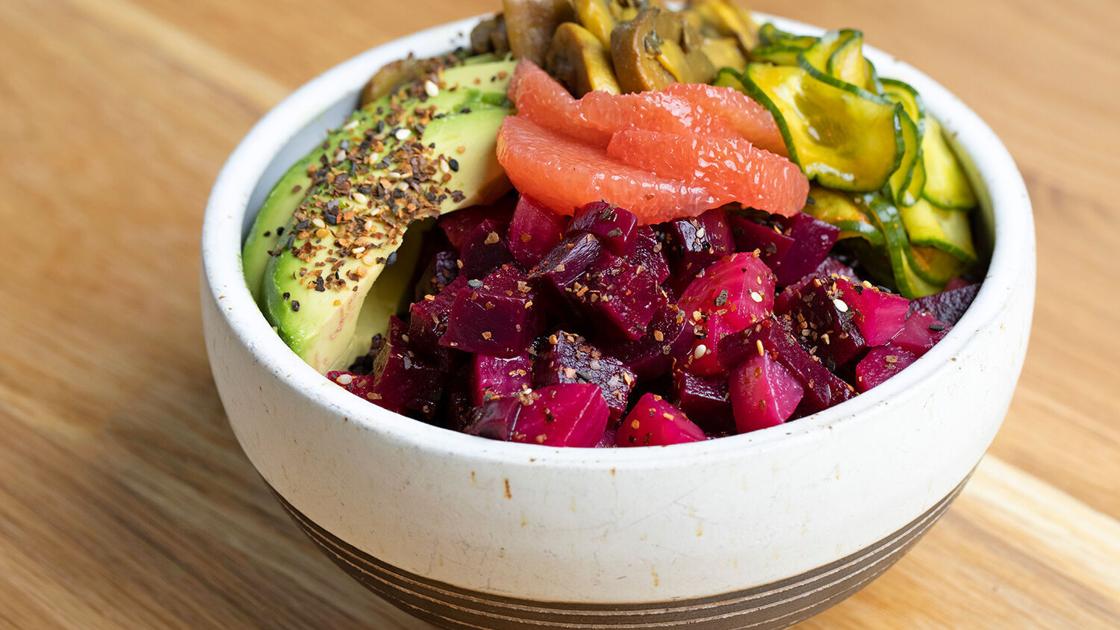 Pharm Table's chef, Elizabeth Johnson from San Antonio, has developed the following recipe for this nutrient-rich vegan sack bowl, which with its balanced taste will trigger all taste buds. Instead of tuna, which is often added to the sack, Johnson includes beets, which are high in iron and available year-round.
Beet & Grapefruit Poke Bowl
1 English cucumber
Salt-
1 cup of forbidden rice
1 pound of medium golden and / or beets
2 tbsp sesame oil
1 packet (8 ounces) white mushrooms, sliced
1 teaspoon finely grated fresh garlic
1 cup coconut amino acids, divided
2 pink or red grapefruit
¼ cup seasoned rice vinegar
1 tbsp finely grated peeled fresh turmeric, divided
½ tbsp finely grated peeled fresh ginger
1 firm ripe avocado
Himalayan salt to taste
togarashi to taste
Cut the cucumber into thin slices; put in a colander and sprinkle lightly with salt. Throw to combine. Place the sieve on the plate and set aside for 30 minutes. In the meantime, put the rice in a sieve. Run cold water over rice until the water runs clear. Prepare rice according to the directions on the label. Let the rice cool for at least 10 minutes or until it reaches room temperature, but do not refrigerate it.
Place a metal steamer or small metal strainer in the pressure cooker. add 1 inch of water. If necessary, remove any greens from the beets. Place unpeeled beets in the pressure cooker and cook for 10 minutes according to the manufacturer's instructions. Release the pressure from the pressure cooker.
In a large pan, heat the sesame oil over medium heat. add mushrooms and garlic and cook 6 to 8 minutes or until tender, stirring occasionally. Take the pan off the stove. Stir in ½ cup of coconut amino acids.
Squeeze ¼ cup of grapefruit juice into a medium-sized bowl. put aside. Cut the remaining grapefruit into segments in a separate bowl. put aside.
When the beets are cool enough, cut the ends and remove the peel. Cut the beets into 1-inch pieces and place them in a bowl with grapefruit juice; Add ½ tbsp turmeric, ginger and Himalayan salt to taste. Throw until everything is mixed well.
Rinse cucumbers briefly under running water; Squeeze the cucumbers together to release liquid. Put the cucumbers in a small bowl and mix with the vinegar and the remaining ½ cup coconut amino acids and ½ tablespoon turmeric.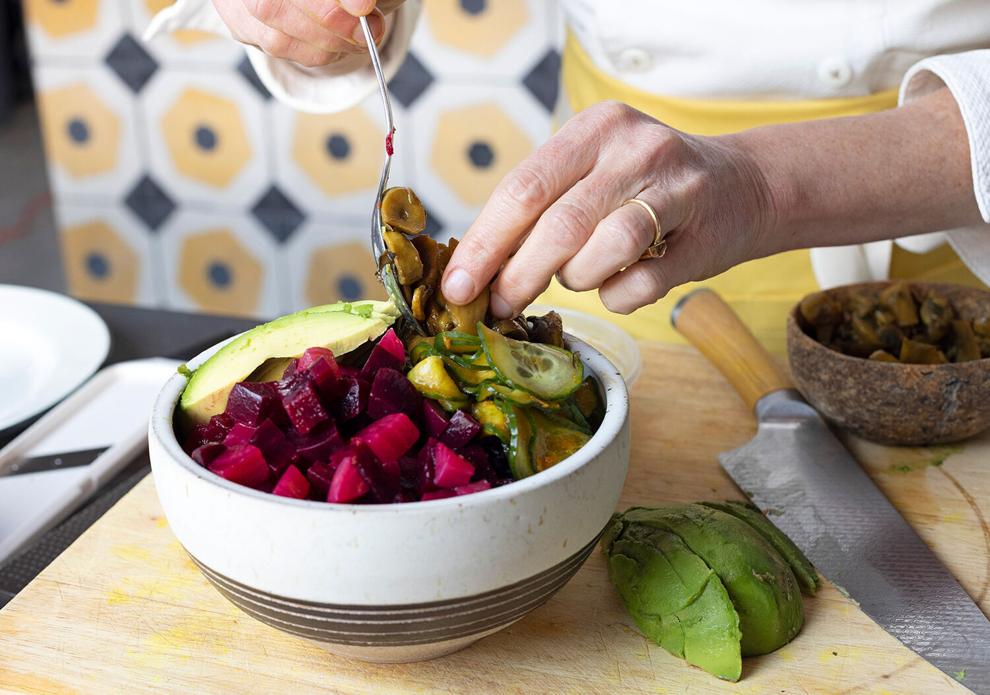 Assemble the poke bowl: Divide the rice into 4 bowls each. Top evenly with mushrooms, beets and cucumbers as well as some marinade and grapefruit segments. Halve the avocado; Remove pit. Cut the avocado into thin slices, then fan the slices over the rice. To serve, sprinkle poke with Himalayan salt and togarashi.
With our weekly newsletter filled with the latest groceries.