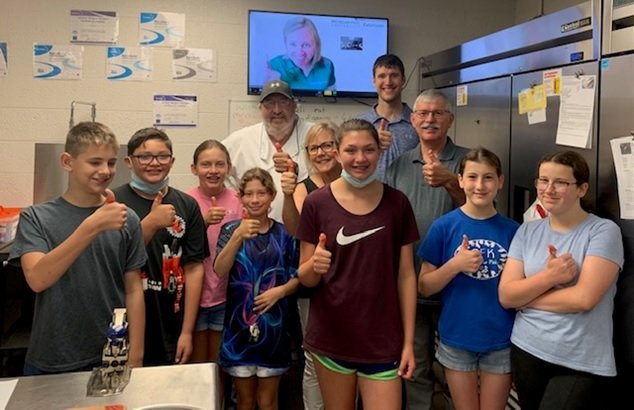 Compiled by Kyle Kotecki, kkodecki@pioneergroup.com
August 24, 2021
Matthew Knizacky and Joshua Gray of the Knizacky Insurance Agency attend a teenage cooking class at the Armory Youth Project in Manistee. The agency awarded the AYP a grant of $ 3,500 to support the program. (Courtesy photo)
MANISTEE – The Armory Youth Project recently received a $ 3,500 grant from the Knizacky Insurance Agency through the Farm Bureau of Michigan's Agent Charitable Fund in support of the Armory's mission to create a safe environment for young people to live in Grades 6-12 build a community and can be encouraged in their educational, emotional, physical and Christian spiritual development.
"We are excited to support the Cooking Matters for Teens program by providing the materials and foods to help teens learn self-sustaining food preparation behaviors," said Matthew Knizacky and Joshua Gray of Knizacky Insurance Agency in a press release.
Amy Wojciechowski, Executive Director of AYP, said the Cooking Matters course is extremely beneficial for the students.
"Through the scholarship and collaboration with the Michigan State University expansion office in July, our teenage cooking class enabled children to explore methods of budget-friendly meal preparation for themselves and their families, and to take home recipes and groceries each week to practice what you learned in class, "she said. "The armory is financed 90% by donations and 10% by grants and we are very grateful for the support of the Farm Bureau."
The Amory had 27 teenagers participating in the program.
"It was really fun learning how to make new recipes, and now I can help my family eat," said David Dawson.
SEE ALSO:
The Armory Youth Project's fishing program is one of many new offers for Manistee students
Armory Youth Project honors "Superheroes" at Manistee County Medical Care
Photos: Armory Youth Project launches summer geocaching program
Written by
Compiled by Kyle Kotecki