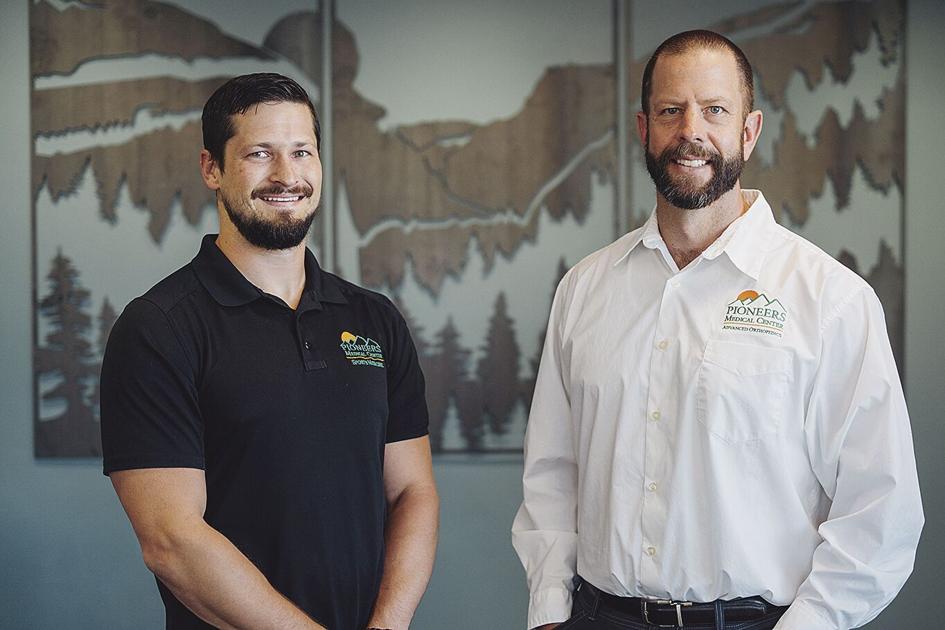 The orthopedic surgeon Dr. Kevin Borchard and sports medicine and nutritionist Dr. Justin Grant are working together to help Colorado Advanced Orthopedics (CAO) patients with elevated body mass index (BMI) who need orthopedic surgery.
The BMI is the ratio of a person's weight in kilograms divided by their height in meters squared. It is an estimate of the amount of fat, or the amount of adipose tissue a person can have. A healthy BMI is defined as 20-24.9; Overweight is 25 to 29.9; obese is 30 to 39.9; and morbid obesity is over 40. BMI is fairly accurate, but it can overestimate obesity in muscular individuals.
Dr. Borchard performs operations on patients with a BMI up to 45. "Joint replacement surgeries performed when BMI measurements over 40 have increased the complexity," said Dr. Borchard, "the surgical approaches and exposures required for surgery can be more difficult."
The increased risks include: infection, fractures, ligament injuries, implant failure, and wound healing problems. For these reasons, many surgeons prefer not to proceed with these surgical cases.
"I approach these operations in the same way as I approach all operations. We use the same techniques to avoid complications, "said Dr. Borchard. "There are risks and complications that can be monitored during and after surgery, and we will use a negative pressure bandage if necessary to aid wound healing."
For people with a BMI over 45, Dr. Borchard with his team colleague Dr. Justin Grant worked together to create a diet and nutrition plan and to work with the patient every step of the way to achieve a safe surgical weight.
Every patient needs an individual plan. "What works for one patient may not work at all for another," said Dr. Grant. "We avoid strict diet plans and strive to develop a new lifestyle that is sustainable and enhances the joy of life rather than interfering with it," he said.
Dr. Grant begins with a three-pronged approach: diet, exercise, and mental training. He identifies what, by and large, works for successful nutrition, such as "real food", portion control, and appropriate meal frequency.
"Our bodies are designed to move, and exercise provides both health and joy. We work within the patient's abilities as we slowly try to increase their painless functional movement. I can say with great confidence that more than 80% of our patients are on the right track to achieving their goals within or before the stated target date. "
Kay B. is a patient of Dr. Grant who is achieving great success with her individual health program.
"I went to Dr. Grant for pain in my leg and back. After helping me with this problem, Dr. Grant, would I be willing to listen to his health care plan, "Kay said. "I was listening and wondering if I would really commit to it and my question was, why should I pursue this plan at this stage in my life? I am 77 years old, "she continued. "His response was an encouraging surprise – to keep you out of the nursing home for as long as possible!"
Kay committed to Dr. Grant's Plan: "The program has given me confidence that I can overcome my weaknesses and make positive changes to improve my health. Dr. Grant helps me master a stronger self – from choosing a better diet to exercising to reading books on self-control. His plan encourages you to incorporate these aspects into your life so that it suits you, "she said. "DR. Grant makes me feel like I can do it! Small changes become habits and after a short time you've made great strides. Best of all, the plan works for me!"
To suit all body types, CAO and the Pioneers Medical Center invested in the Hitachi Echelon Oval Wide Bore MRI machine last year. The ultra-wide opening of 74 cm and the short overall length of the Echelon oval promote a high level of patient comfort without compromising the field of vision or image quality. A positive patient experience is enhanced with adjustable airflow, lighting and two-way communication. The ultra-wide oval bore of 74 cm offers space for the extra-wide 63 cm patient-friendly table.
Pioneers Medical Center is the second hospital in the state and the only hospital on the Western Slope to offer this type of advanced imaging.
CAO is based in Meeker, Colorado. For more information or to schedule a consultation, please visit www.coloradoadvancedorthopedics.com or call (970) 878-9752.