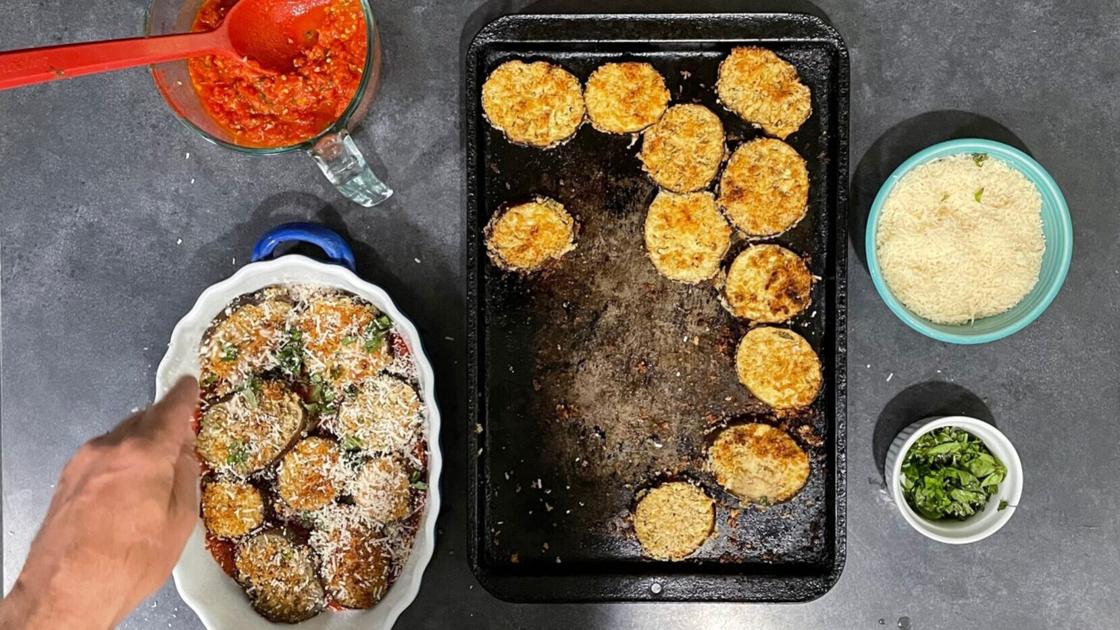 My simplified, lighter version is one of my favorite casseroles. Maybe it's not like other casseroles, but more like baked eggplant with a little sauce and cheese.
Marinated chickpea salad
Note: This recipe can be doubled.
Power: 4 servings of side dishes
Ingredients:
Dressing:
3 tbsp fresh lemon juice
2 cloves of garlic, pressed or chopped
salt and pepper
4 to 6 tablespoons of extra virgin olive oil
Salad:
1 14-ounce can of chickpeas
¼ cup of diced red onion
¼ cup of red or green bell peppers
¼ cup cucumber, diced
2 to 4 tablespoons of chopped fresh mint, plus a few leaves for garnish
½ cup cherry tomatoes, halved (optional)
½ cup of crumbled feta cheese, plus more for garnish
Salt and pepper to taste
Directions:
For the dressing, mix lemon juice, garlic, ½ teaspoon salt and ¼ teaspoon pepper in a bowl or glass. Stir and let sit for 1 to 2 minutes to allow the salt to dissolve and the flavors to blend in. Then stir in 4 tablespoons of olive oil. Try and add more olive oil if desired – but the mixture should be quite flavorful and lemony.
Rinse the chickpeas with cold water and drain well. Place in a medium bowl with onion and bell pepper. Mix with the dressing, then leave to marinate for 1 hour at room temperature. Alternatively, cover and refrigerate overnight; Bring to room temperature before continuing.
Stir in cucumber, mint, tomatoes and feta to serve. Season to taste and season with salt and pepper. Garnish with more feta and whole mint leaves. Serve at room temperature.
– Recipe from Michael Hastings
Muhammara (roasted pepper dip)
Note: Pomegranate molasses is sold in many supermarkets, but if not available, they can be used as a substitute for cranberry juice concentrate, a mixture of equal parts lemon juice and honey, or sugar, balsamic vinegar and sugar.
Power: About 1½ cups
Ingredients:
3 red peppers
2 tablespoons of extra virgin olive oil, shared, plus garnish
½ cup (about 2 ounces) walnut pieces, plus more for garnish
1 clove of garlic, roughly chopped
½ cup breadcrumbs (or crumbled wheat crackers)
1 tablespoon of lemon juice
1 tablespoon pomegranate molasses (see note)
½ teaspoon of ground cumin
½ teaspoon of Aleppo pepper or ¼ teaspoon of crushed red pepper flakes
½ teaspoon of salt
Chopped fresh parsley for garnish
Directions:
Preheat the oven to 450 degrees. Brush the peppers with ½ tablespoon of oil and place in a lightly oiled ovenproof pan or cast iron pan. Roast the peppers for 20 to 30 minutes, turning once or twice. (Alternatively, fry the peppers with tongs on all sides over the flames of a gas stove.)
Place the walnuts on a baking sheet and roast for 10 to 15 minutes while the peppers cook. Watch the nuts carefully to keep them from burning.
Put the peppers in a heatproof mixing bowl. Cover with plastic wrap and let rest for 10 to 15 minutes. You're done when the trapped steam has loosened the pods enough that they can be peeled easily. When the peppers have cooled a little, peel them and discard the kernels and seeds. Roughly chop the peppers.
Add walnuts, garlic, breadcrumbs, lemon juice, pomegranate molasses, cumin, Aleppo, or crushed red pepper flakes and salt to a bowl of a food processor. Process until smooth. Add chopped peppers and puree until smooth. With the food processor running, add the remaining 1½ tablespoons of olive oil. Season to taste and add more salt, lemon juice or olive oil as needed. For best results, cover it and put it in the refrigerator overnight to allow the flavors to mix.
Bring to room temperature for serving. Put in a bowl and garnish with walnuts and a dash of olive oil and sprinkle with parsley if you like. Serve with roasted pita chips – or on grilled fish or meat skewers. Keep leftovers refrigerated in an airtight container for a week.
– Recipe from Michael Hastings
Greek prawns, tomatoes and feta
Power: 4 servings
Ingredients:
2 tablespoons of olive oil
¼ cup onion, finely diced (optional)
2 cloves of minced garlic
¼ teaspoon crushed paprika flakes
½ cup of dry white wine
½ teaspoon oregano (optional)
1½ cups chopped tomatoes (1½ pints of cherry tomatoes, halved or 1 15-ounce can diced)
Salt and pepper to taste
1 pound shrimp, peeled
½ cup of crumbled feta
¼ cup chopped parsley
8 ounces of cooked short pasta or crusty bread
Directions:
If you are serving with pasta, bring a large saucepan of salted water to a boil. In a large pan over medium heat, add the olive oil, onion, if used, garlic, and red pepper flakes. Cook, stirring, for 3 to 5 minutes, until the onions soften.
Add wine and bring to a simmer. When the wine is reduced by half, add the oregano and tomatoes, and salt and pepper to taste. Simmer, stirring occasionally, until the tomatoes are cooked and the sauce has thickened a little, about 15 minutes. In the meantime, cook the pasta if used, then drain.
Add the shrimp to the tomatoes and cook over medium heat, stirring frequently, for 3 to 5 minutes until tender. Mix in half of the feta and half of the parsley.
Serve immediately over pasta or crusty bread and sprinkle with the remaining feta and parsley.
– Recipe from Michael Hastings
Easy Eggplant Parmesan Take 12
Makes: 4 servings
Ingredients:
olive oil
3 to 4 pounds of fresh tomatoes (see note)
salt
Freshly ground black pepper
2 to 2½ pounds of eggplant (6 to 8 small), if desired, peeled and cut into ½ inch slices (see note)
3 eggs, beaten
2 cups of panko breadcrumbs or more as required
2 cloves of garlic, chopped
2 to 4 tablespoons of chopped fresh basil leaves or more to taste
Pinch of crushed red pepper flakes
1 to 1½ cups (4 to 6 ounces) of freshly grated Parmesan cheese
Directions:
Heat the oven grill. Have and core the tomatoes and place on an oiled baking sheet. Sprinkle generously with salt and pepper. Fry the tomatoes until the pulp is a little softer and the skin has peeled off, about 10 minutes, turning once.
Turn the oven on to baking and set the temperature to 425 degrees. Grease a large sheet pan with olive oil. Peel eggplants to taste, especially if the eggplants are large. Cut eggplant into ½ inch slices. Sprinkle generously with salt and pepper. Dip each slice in a beaten egg, then brush both sides with breadcrumbs, turn and press lightly. Arrange as many as will fit in a single layer on the greased pan. If necessary, use a second pan to keep the eggplant from getting too tight. Bake for 20 to 30 minutes, until soft and browned.
Meanwhile, make the tomato sauce. When the tomatoes are cool enough to touch, peel the skin and gently squeeze or scoop the seeds, then roughly chop. (If you are squeezing out the seeds, you can use a strainer over a bowl to catch flavorful juices.) In a pan, heat 2 tablespoons of oil over medium heat. Add garlic and red pepper flakes and cook for 30 seconds. Add tomatoes, salt and pepper; boil, mash tomatoes with a spoon until the sauce is thick, 10-15 minutes. Remove from heat and stir in 2 tablespoons of basil. Season to taste and add more salt and pepper as needed. The sauce should be flavorful. You should have around 3 to 4 cups.
Set the oven to baking and set to 375 degrees. Spread a thin film of tomato sauce in a 9 by 13 inch or other large, flat baking dish. They want a bed of sauce for the eggplant, not a lake. Place a layer of aubergine slices over the sauce. Sprinkle with a little cheese and additional basil if you like. Repeat the layers until all the ingredients are used and finish with cheese.
Bake for 15 to 20 minutes, until the eggplants are warmed through, the cheese melts and excess liquid evaporates. Serve warm or at room temperature.
Note: If you are using large eggplants, it is best to salt and drain them first. Mix eggplant slices with 2 teaspoons of salt in a sieve. Let stand for 30 minutes. Arrange in a single layer on a tea towel and roll up tightly to extract any excess water. (Don't add extra salt when cooking.) You will get about 1 cup of sauce for every pound of tomatoes. So if you want to replace canned tomatoes or sauce in this recipe, you'll need at least a 28-ounce can of tomato or sauce that measures about 3 cups. If desired, the tomatoes do not have to be grilled first. They can be blanched to remove the skin, then chopped and placed in a saucepan, or, if you'd rather leave the skin on, the tomatoes can be cut raw and placed directly in the saucepan. Skinless, seedless tomatoes make a more sophisticated sauce, but some people are okay with leaving them in the sauce.
Tips:
Make sure the eggplant is tender before assembling the bowl. The eggplant will stop cooking after the last step in the oven.
Try the eggplant and tomato sauce before putting the dish together. Both should be flavorful as it is almost impossible to season the assembled casserole evenly.
Whether or not to peel the eggplants may depend on personal preference, but larger eggplants tend to have a harder shell. Small eggplants have thinner skins, and these skins are rich in nutrients. Sometimes a compromise works well: peel half of the eggplant into strips.
Avoid adding more cheese. It will be tempting, but at some point the cheese will take over and you will hardly even notice that there is an eggplant hiding underneath.
– Recipe from Michael Hastings
With our weekly newsletter with the latest about food.