click to enlarge

Adriana Iris Boatwright
Cycling around Lake Mayer Community Park is a popular form of outdoor fitness year-round.
It's easy to enjoy Savannah's beautiful spring and summer seasons, but we are barely tolerant of the colder months. Spoiled by our reasonable temperatures, winter may seem like a poor time to visit the many appealing parks and outdoor recreation areas around our city. However, open-air exercise not only helps you shape up, but also relieves stress and reduces depression and anxiety. And as an added bonus, wintertime fresh-air fitness activities can generally be enjoyed without encountering the clouds of gnats that frequently fly around this region in warmer months. In many ways, there couldn't be a better time than winter to explore Savannah's outdoor-fitness options – especially since shoveling snow is almost certainly never to be one of them.

click to enlarge


Nick Robertson/Connect Savannah
A man walks his dog on the newly completed Truman Linear Park Trail.
TAKE A HIKE OR RIDE A BIKE
Immersing in nature while hitting the trail is a huge stress reliever, whether it's for a miles-long bike ride or a short walk with a four-legged friend. Along the way, the Lowcountry's forested nature can look fascinating during the winter season. Try these trails around the area:
Skidaway Island State Park
The six miles of trails here offer glimpses of coastal Georgia wildlife. There are common sightings of deer, raccoons, and fiddler crabs, as well as excellent birding opportunities on any of the paths. The popular Sandpiper Trail Loop winds through marshes and creeks for about a mile, and is ADA accessible and allows dogs on leashes, but this path is closed to bicycles. The Big Ferry Loop does allow bikes, stretching three miles through the park. The one-mile Avian Loop Trail passes the Intracoastal Waterway, and the Connector Trail ties them all together. Location: 52 Diamond Causeway, Savannah. More info: gastateparks.org/SkidawayIsland
Whitemarsh Preserve
The Whitemarsh Preserve, a coastal maritime forest full of picturesque live oaks and Spanish moss, is encircled by a well-maintained track for walking and jogging. The inner loop is a popular cycling trail – even featuring log-jam crossings and dips for adrenaline-junkie mountain bikers – that is also beloved by dog walkers and hikers. For more relaxed strolling or biking, check out the paved trail that starts on Johnny Mercer Boulevard and ends in an open field near the parcel's northern edge. Location: By the intersection of Johnny Mercer Boulevard and Bryan Woods Road, Whitemarsh Island.
Truman Linear Park Trail
As the first completed phase of Chatham County's Tide to Town Trail Network Project, this well-structured public path provides easy access for a 4.5-mile trek, including a loop around Lake Mayer. The trail can be reached by parking at the Scarborough Sports Complex by the intersection of Skidaway Road and Bona Bella Avenue, or at Lake Mayer's parking lots. The trail is also safe during winter's early evening hours – planners thoughtfully added lighting, security cameras, and emergency call boxes to the ADA-accessible trail. Location: Spanning Lake Mayer Community Park to DeRenne Avenue largely alongside the Truman Parkway, Savannah. More info: tidetotown.org/truman-linear-park-trail

click to enlarge


Adriana Iris Boatwright
The free fitness course at Lake Mayer Community Park can be completed on foot or by bicycle.
OUTDOOR FITNESS TRACKS
Anyone seeking a more vigorous workout has a variety of free fitness tracks to choose from in Chatham County, with varied aerobic challenges placed alongside paths for jogging or biking to provide completely customizable exercise regimens at these locations:
Lake Mayer Community Park
Lake Mayer has a 1.5-mile rubberized track with a fitness course, the Lake Mayer Circuit Run. The 18 stations of the course are easy to use, with signs explaining exactly how to do each exercise, broken down into three levels of difficulty. Hardcore health seekers can sprint between jumping jacks and wall sits. Whatever level you choose, the course is designed to provide pleasant lakeside views while getting your heart pumping. Location: 1850 Montgomery Cross Rd., Savannah.
More info: parks.chathamcounty.org/Parks/Community-Parks/Lake-Mayer
Tom Triplett Community Park
Calm and peaceful, this park in Pooler also has a 1.5 mile trail that winds its way around a freshwater lake and features a fitness course, with signs explaining how to do the various exercise challenges. The park also provides a shaded playground and a dog-fitness area, along with tennis courts and fishing piers, truly offering healthy attractions for the entire family. Location: 100 Tom Triplett Rd., Pooler. More info: parks.chathamcounty.org/Parks/Community-Parks/Tom-Triplett
L. Scott Stell Community Park
Located in southwest Chatham County, this forested haven welcomes everyone for a wide variety of open-air activities. The jogging path is just a mile long at this park, but it is also lined with fitness facilities that will provide a rigorous workout. Other healthy amenities found here include lighted tennis courts, a large playground, a dog-exercise area, and even an archery range. Location: 195 Scott Stell Community Park, Savannah. More info: parks.chathamcounty.org/Parks/Community-Parks/L-Scott-Stell

click to enlarge


Nick Robertson/Connect Savannah
The Bacon Park Tennis Complex is a modern facility popular among players of all skill levels.
TENNIS ANYTIME
Thanks to Savannah's relatively balmy climate, public open-air tennis courts are available year-round in the Hostess City, providing well-maintained facilities for players of all skill levels. The city government also operates several leagues ranging from seniors-only to mixed doubles.
Daffin Park Tennis Courts
This central Savannah park features six supervised clay courts and three hard courts that are lit up at night, and all of them are easily accessible from Victory Drive. This is a regular playground for participants of the Savannah Area Tennis Association leagues, but anyone with rackets and balls can make reservations for a court and simply enjoy the love of the game. Location: 1301 E. Victory Dr., Savannah. More info: savannahga.gov/813/Tennis-Program
Bacon Park Tennis Complex
This modern facility is large, with 16 lighted hard courts available for play and an elevated clubhouse providing sweeping views over the entire complex. Varied leagues are hosted here as well for adults, juniors, and seniors, but anyone who makes reservations is welcome, and instruction opportunities are also available here. Location: 6262 Skidaway Rd., Savannah. More info: savannahsportscouncil.com/facilities/bacon-park-tennis
Forsyth Park Tennis Courts
At the southern end of the biggest park in Savannah's historic district, four unsupervised public tennis courts welcome more casual players to get into the swing of things. While these free courts are often in high demand − even during wintertime − the other attractions around and within Forsyth Park ease any time spent waiting for an open court. Location: Near the intersection of E. Park Ave. and Drayton St., Savannah. More info: savannahsportscouncil.com/facilities/forsyth-park

click to enlarge


Nick Robertson/Connect Savannah
The driving range at Bacon Park Golf Course.
FAIR-WEATHER FAIRWAYS
Golf is a popular pastime around Savannah all year long, and this area features several public courses that are often less crowded during wintertime, making this a perfect season for sharpening your swinging skills with a leisurely nine holes, or even just by hitting a few balls on the driving range.
Henderson Golf Club
Owned and operated by Chatham County's municipal government, this course has been upgraded in recent years and is now one of the most appealing public courses in the region. While the grass may be dormant in winter, golf here is lovely all year long, and accessible for players of varying skill levels, with PGA professional instruction available onsite. Location: 1 Al Henderson Dr., Savannah. More info: hendersongolfclub.com
Bacon Park Golf Course
Designed in 1926 by Donald Ross, this popular Savannah golf spot features a varied array of holes named for their characteristics, with notable links on the first nine including Lowland, The Stretch, Long View, and Dead Aim. With a pro shop, nice driving range, and putting and chipping greens, this is an easygoing location for all of your golf needs anytime. Location: 1 Shorty Cooper Dr., Savannah. More info: baconparkgolf.com
Hunter Golf Course
You don't need to enlist to play on the Hunter Army Airfield links. Hunter's course is accessible through the Montgomery Street Gate just off of DeRenne Avenue. Open for military and civilians alike, the greens on the base are beautiful. This course is also home to the Georgia Adaptive Golf Program, an organization devoted to bringing the game of golf to differently abled athletes. Location: 1548 S. Perimeter Rd., Hunter Army Airfield. More info: stewarthunter.armymwr.com/programs/hunter-golf-course
Crosswinds Golf Course
Rated by Golf Advisor as one of the country's best courses to play for under $50, this club offers additional discounts for seniors, Gulfstream employees, military members, and first responders. This can be a great place for those new to the game to give it a go during the less-crowded winter season, with Callaway club rentals available. Location: 232 James B. Blackburn Dr., Savannah. More info: crosswindsgolfclub.com
Disc golf
As an alternative to traditional golf, disc golf is growing in popularity locally, with free public courses available at Tom Triplett Park (100 Tom Triplett Rd., Pooler) and Jaycee Park (30 Van Horne Ave., Tybee Island).

click to enlarge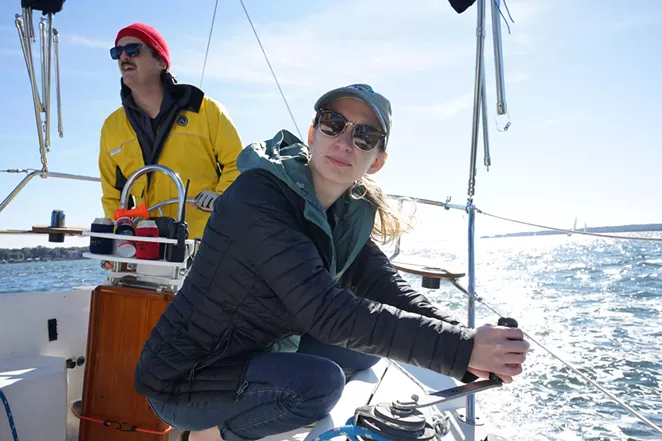 Courtesy of Sail Savannah
Experience the invigorating activity of open-water sailing with Sail Savannah's active instruction.
WINTER WATER SPORTS
Even though we may sometimes feel like it's freezing in Savannah during winter, it is much more temperate here than most of the country, making water sports an option all year long. While at first it may be a little daunting to get out in the waves or area waterways, these organizations aren't afraid to help you get wet and have fun doing it:
Savannah Canoe and Kayak
Explore the region's tidal creeks, marshes, and interior waterways with the seasoned guides at Savannah Canoe and Kayak, providing all needed gear for paddlers of every skill level to enjoy active excursions. Meanwhile, extreme athletes with a wetsuit can try out more immersive wintertime water sports like paddleboarding or kayak fishing. Location: 414 Bonaventure Rd., Savannah. More info: savannahcanoeandkayak.com
Tybee Island Surf
It may not be an endless summer on Tybee Island, but it's much balmier than most coasts during wintertime, and with less visitors on the shore this can be a perfect time to paddle out into the Atlantic to catch some waves. The hardy instructors at Tybee Island Surf provide lessons and surfboards to use, but participants must bring their own wetsuit. More info: tybeeislandsurf.com
Sail Savannah
While the folks at Sail Savannah specialize in leisurely cruises, they also provide active instruction excursions all year long. Participants can raise sails, crank winches, and take the helm to discover just how exhilarating and invigorating it can be to ride the wind in Savannah's local waters that served at the Olympic sailing venue in 1996. More info: sailsav.com