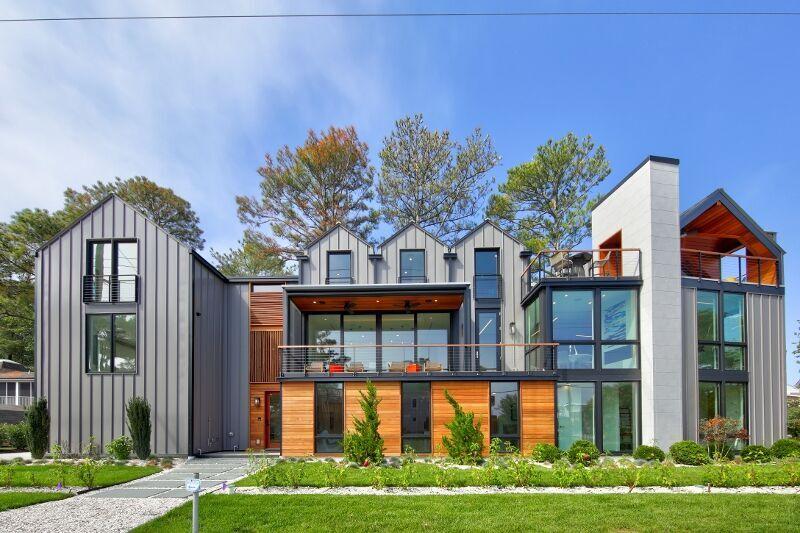 Editor's note
This is the fourth in a series of previews of the homes to be seen during the 29th Annual Beach & Bay Cottage Tour, which takes place virtually from July 18 to 31.
Nestled in the dunes of North Bethany, this stucco-clad cube from 2015 is flanked on its western front by a towering elevator tower paired with a shaft of horizontal wooden slats that reflect the house's wooden frame and a dynamic geometry of linear contrasts create.
The meticulous attention to detail that characterizes the architect who designed the house and the local builder combines this five bedroom home whose contemporary design is based on extreme linear precision, with every screw and grout line perfectly coordinated. The architect's characteristic style includes a lively interplay of light, shape, texture and geometry, which is reflected in the balance of horizontal and vertical lines.
The simplicity of the clear white walls and oversized black-framed glass windows and doors let the panoramic view of the sea on each floor take center stage and flood the room with natural light. Reclaimed walnut floors provide warmth, while bright red, yellow, blue and orange tones enliven the art and the soft structure of the furnishings.
Emphasizing a minimalist aesthetic requires an abundance of built-in storage space to minimize clutter, especially in bedrooms where sleek closets take the place of traditional dressers. Typical of the modern style, the baseboards are recessed and the windows are borderless, with remote-controlled blinds instead of traditional window treatments.
The homeowners now meet regularly with family and friends in their seaside retreat and cook together in the open-air kitchen with the glass sliders wide open to enjoy the ocean breeze and waterfront views.
This is just one of the properties considered by those who purchase tickets for the 29th Annual Beach & Bay Cottage Tour.
While a virtual tour is new to the Cottage Tour, the professionally produced Video Tour gives visitors the safe and secure opportunity to tour each home from anywhere as often as they like during the two-week tour. Special features include video recordings from a bird's eye view and the option to view the tour on any internet-enabled device.
"This year we're also excited to give our patrons an opportunity to give their friends and family a gift of the tour, no matter where they live," said Kathy Green, chairwoman of the tour. "You can find information on our website!"
The 29th Beach & Bay Cottage Tour is presented by Leslie Kopp and the Leslie Kopp Group. Tickets priced at $ 35 can only be purchased through the Cottage Tour website at beachandbaycottagetour.com. The Cottage Tour is produced by the Friends of the South Coastal Library. This year's tour is the main source of funding for 2021, and any net proceeds will go directly to library operations.