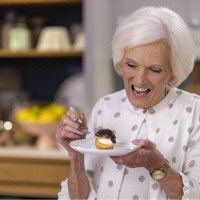 Dame Mary Berry will join BBC Two and iPlayer for Love to Cook, a new cooking series announced on Friday (June 11th).
The 6 x 30-minute series will have its premiere this year. The series was commissioned by Sidney Street, which is owned by BanijayUK. Karen Ross and Martha Delap are executive producers on the series, while Dave Crerar and Sarah Myland are the directors of the series.
Berry has worked as a chef, food writer, and television presenter for decades. In her new series, she talks to other people about her own passions and shares recipes.
"Over the past year many have had an unexpectedly long time at home and have found that the love of cooking is comforting and healing in very difficult times," Berry said in a press release.
"Love to Cook is about celebrating just that, with wonderful characters as I travel the British Isles to learn and share our passion for food."
The BBC also announced on Friday that Abigail Priddle has been appointed as the new Creative Director of History & Arts for The Documentary Unit as part of the BBC Studios' Productions Factual Division.
In her new role, Priddle will creatively lead production teams, play an important role in developing the story and art strategy, and produce episodic titles. Priddle worked on the BBC commission for nearly five years, overseeing programs like The Yorkshire Ripper Files: A Very British Crime Story, The Trump Show, and Bent Coppers.
"Abigail showed exceptional reach when it was commissioned; Promotion of large and small indies, promotion of film talent and support for new directors. She also values ​​quality and delivery – qualities that are incredibly important to our content, "said Tom McDonald, MD of BBC Studios' Productions Factual, in a press release.