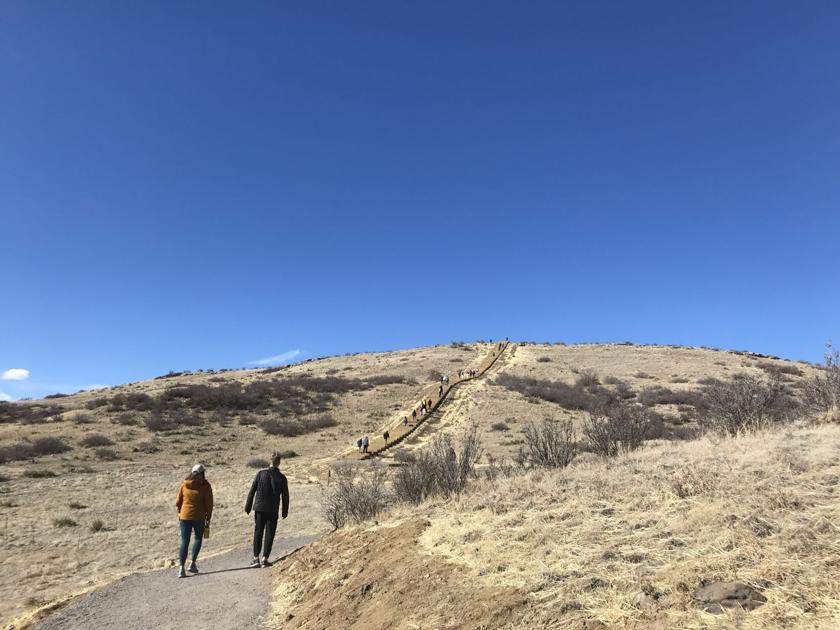 Incline Challenge, Parker
Coloradans have a soft spot for climbing stairs outdoors. This shows the great popularity of the Manitou slope. And that is also confirmed by the mini versions, based on this vertical funicular fitness test – born to please the Front Range communities in the north.
First after the legal opening of the Manitou slope came Challenge Hill, the centerpiece of Castle Rock's Philip S. Miller Park. Now comes the Incline Challenge in Parker.
Since opening around Thanksgiving, the backbone of the wooden steps has attracted a steady parade of people on the weekends. Fortunately, ample parking has been created at the grassy base off Interstate 25 through the collaboration of the local government, which included the Incline Challenge as part of a larger recovery plan around the Rueter-Hess Reservoir. Many more kilometers of hiking trails are planned, along with fishing and non-motorized boating.
The reservoir, completed in 2012, had a booming need for drinking water. The Incline Challenge represents a different, foreign demand.
Perhaps someone fed up with the required reservations of the Manitou Incline will go to this little sibling. Emphasis on little.
The Incline Challenge is more comparable to Castle Rock's hill, which claims to climb 200 steps and 178 feet. The Incline Challenge describes itself as 132 steps. The top step of the Manitou slope is now 2,768. And more than the other two, we noticed a less harsh, downward trend here at Parker.
Manitou Incline regulars may make fun of themselves, but the views are nothing to ridicule. On the Incline Challenge, Longs Peak towers straight ahead, Pikes Peak to the south and the glittering Denver skyline to the north.
A path leads back to the base. For those who can't seem to get enough, the lapping begins.
Travel log: 0.9 mile loop, 237 feet of elevation gain
Difficulty: Moderate
Get there: Starting point on 11865 Heirloom Parkway. On I-25, take Exit 188 at Castle Pines and travel east approximately 3 miles to turn left into the parking lot.
For your information: Open from sunrise to sunset. Dogs are allowed on circular paths, but not on steps. The same goes for bicycles.
SETH BOSTER, THE GAZETTE